genotype : Aa, BB, CC, DD, Ii, tb tb
HCM : echo doppler (clear/sain)
ADN mybpc3 (heterozygous)
PKD : clear
PARENTS

Sire : GCHI
Cartoonland Skywalker

Dam : GCHE + QGC
Broceliande
Xena
Arwen est la digne fille de ma Xena et du beau Skywalker. De suite elle a montré du caractère, ses mimiques si semblables à sa clown de mère m'ont fait craqué très rapidement.

Arwen is the worthy daughter of my Xena and the gorgeous Skywalker. immediately she appears to have charakter, her mimicries alike her mother makes me fell in love really quickly.
à 5 semaines avec son arrière grand-maman
at 5 weeks with her grand grand mother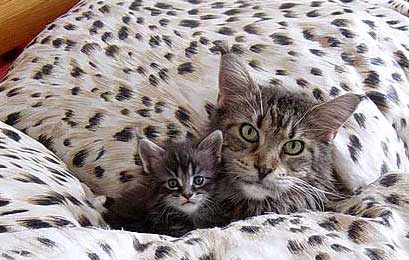 | | |
| --- | --- |
| | |


CCG CHALLENGE 2004

MEILLEURE chaton

BEST kitten

2 ans,
Arwen se developpe comme sa maman avec presque 6 kg pour 2 ans. Elle a une très forte charpente avec un robe black silver très contrastée et lumineuse. Un splendide museau carré avec un menton très fort et un profil bien incurvé. Ses yeux sont magnifiques, d'une profonde couleur vert clair qui lui donne un regard envoutant. Ses oreilles sont bien placées et assez grandes munies de beaux lynx tips. Elle a un super caractère très cajoleuse comme sa maman.
2 years,
Arwen has the same developps as her mother with almost 6kg at 2 years. She had a really strong body with a really nice black silver contrast. A splendid squarred muzzle with a deep and strong chin and good incurved profile. She has wonderfull deep clear green eyes and lovely expression. She has good sized ears well placed with nice lynx tips. She has a cute character like her mother.
CCG CHALLENGE, 2006

2èmeBEST Maine Coon
16ème MEILLEUR CHAT toutes races

2nd BEST Maine Coon
16TH BEST CAT all breed
CCG CHALLENGE 2007

2ème MEILLEURE REPRODUCTRICE

2nd BEST breeder


CCG CHALLENGE 2010

6ème MEILLEURE REPRODUCTRICE

6th BEST breeder
Résultats jugements traditionnels
Traditionnal Shows Results
| | | |
| --- | --- | --- |
| 04.11.2007 | Genève (CH) | BIV, nom |
| 03.11.2007 | Genève (CH) | BIV, nom |
| 24.03.2007 | Moudon (CH) | BIV, BIS |
| 03.09.2006 | Speyer (D) | BIV, nom |
| 02.09.2006 | Speyer (D) | BIV, nom |
| 26.03.2006 | Bergheim | BIS |
| 17.09.2005 | Annecy (CH) | BIV |
| 09.04.2005 | Bernex (CH) | BIV,nom |
| 20.11.2004 | Conthey (CH) | nom |