genotype : Aa, BB, CC, dd, Ii, tb tb
PARENTS

Sire : CHE
Coonyham
Buster Brown

Dam :
Colocoon's
Silver Sprite
Ashanti est née à Bad Sassendorf (Allemagne)
3 mois

Ashanti is born in Bad Sassendorf (Germany).
3 months

4 mois, elle débarque à Broceliande ...




4 months, she arrive at Broceliande ...
5 mois

5 months

6 mois

6 months
10 mois,
Ashanti est une fille adorable, câline et très proche de nous (on l'appelle "Chantilly", une vraie crème..)
Elle est très developpée pour son âge (5,4 kg) et a un type extrême. La qualité de sa fourrure est impressionnante pour une silver, avec une queue incroyablement longue , très en panache, qu'elle porte fièrement. Son type de tête est extrême avec un museau long et fort. Elle a de splendides grandes oreilles très fournies en lynx tips.

10 months,
Ashanti is a real lovely girl, she likes to be ever near us. She is very developed for her age (5,4 kg) and has an extreme type. Her fur quality is impressive for a silver, with an incredibly long tail which she carries proudly.Her headtype is extreme with a long and strong muzzle. She has also splendid and large ears with very nice lynx tips.
CCG CHALLENGE 2000

MEILLEUR MAINE COON
MEILLEUR MI-LONG
2ème MEILLEUR CHAT toutes races

BEST MAINE COON
BEST SEMILONHAIR
2nd BEST CAT all breed
TICA CHALLENGE 2000-2001

16ème MEILLEUR CHATON Europe
6ème maine coon
en 1 seul expo !

16th BEST KITTEN Europe
6th maine coon
in only 1 show !

CCG CHALLENGE 2001

6ème MEILLEUR CHAT toutes races
MEILLEURE FEMELLE MI-LONG
4ème MEILLEUR MAINE COON
6ème MEILLEURE REPRODUCTRICE

6TH BEST CAT all breed
BEST SEMILONGHAIR FEMALE
4TH BEST MAINE COON
6TH BEST breeder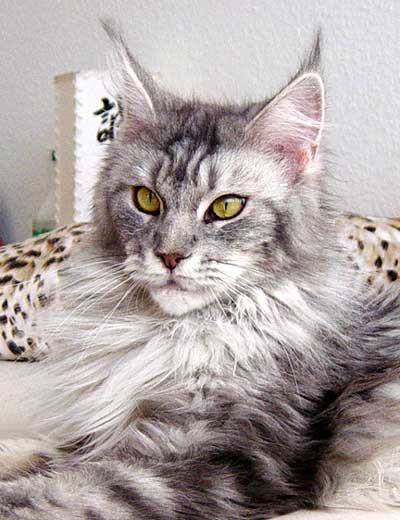 Au revoir douce Ashanti
Ashanti qu'on surnommait avec tendresse "Chantilly" tellement elle était douce, gentille et si précieuse. Elle qui débordait de générosité pour de longs moments de câlins, de tendresse et clownesque lorsque je l'appelait en tournant la tête et qu' elle faisait des roulé-boulé pour m'imiter. Elle qui m'a donné de si beau bébés n'est plus depuis le 20 mai 2004.. Elle a fait un pyomètre qu'on dit "fermé" sans écoulement ce qui explique que je n'ai rien remarqué jusqu'à ce qu'il y ait eu une décompression et ce fût trop tard.
Il me reste l'immense bonheur d'avoir son petit fils King Arthur qui a hérité de son caractère exceptionnel et sauvegardé cette magnifique lignée.
Bye bye sweet heart Ashanti, called with tenderness "Chantilly" she was so sweet, nice and so invaluable. she, which overflowed of generosity for long wheedling moments, a real clown when I called her, she was turning the head and doing roll-swell like me. Ashanti, which given me so beautiful kittens is now in the coonparadise since May 20, 2004. She made a pyometer which we called "closed" without flow what explains I saw nothing, she didn't give any sign of illness since the decompression and it was too late.
I have the big chance to own his grand son "King Arthur" who inherited her exceptional charakter, and saved this marvellous line.
Résultats jugements traditionnels
Traditionnal Shows Results
| | | |
| --- | --- | --- |
| 14.04.2002 | Domodossola (I) | BIV |
| 13.04.2002 | Domodossola (I) | BIV, BIS |
| 02.03.2002 | Payerne | BIV, Nom |
| 11.11.2001 | Rosenau | BIV, Nom |
| 26.10.2001 | Aarburg | BIV |
| 08.07.2001 | Gagny (F) | BIV, BIS |
| 24.06.2001 | Verbania (I) | BIV, Nom |
| 23.06.2001 | Verbania (I) | Nom |
| 12.11.2000 | Rosenau(F) | BIV, BIS |
| 25.06.2000 | Verbania (I) | BIS |
| 18.06.2000 | Dijon (F) | BIV, BIS |
| 17.06.2000 | Dijon (F) | BIV, BIS |
| 23.04.2000 | Yverdon (CH) | BIV, BIS |
| 22.04.2000 | Yverdon (CH) | BIV, BIS |