genotype : aa, BB, CC, DD, II, tb tb
HCM / PKD tested
PARENTS

Sire : SGC Willowplace Jubilation of Winfield

Dam :
Dorwill Jolene
of Willowplace
Smokey est né à Greenville
(Caroline du Sud, USA)
4 mois

Smokey is born in Greenville
(south Carolina, US)
4 months


4 mois

4 months
2 ans
Smokey a un corps long et très musclé avec une excellente charpente.
Sa tête est typique, avec un gros museau carré, un menton fort et de grandes oreilles munies de beaux lynx tips. Il a la particularité d'être homozygote du gène silver (I) et de ce fait, ne produit que des chatons silvers (tabby ou smoke) ...
C'est un matou très paisible avec un super caractère. Tellement calme, qu'il s'endort sur les tables des juges et partout ailleurs, dès qu'il en a l'occasion. Un vrai "macho" !!

2 years
Smokey has a long body heavy boned from big size.
His head is typical with a big squared muzzle and a strong chin, large ears with nice lynx tips. He is an homozygote silver and could only give silver kittens (tabby or smoke) ...
He's a very peaceful tom cat with a sweet temperament. So much that he falls asleep on the judge's tables and everywhere else, as soon as he has the opportunity ... A truth " macho "!!
CCG CHALLENGE, 2000

MEILLEUR MALE MI LONG
2ème maine coon
6ème MEILLEUR CHAT toutes races

BEST SEMILONHAIR MALE
2nd maine coon
6TH BEST CAT all breed
3 ans
3 years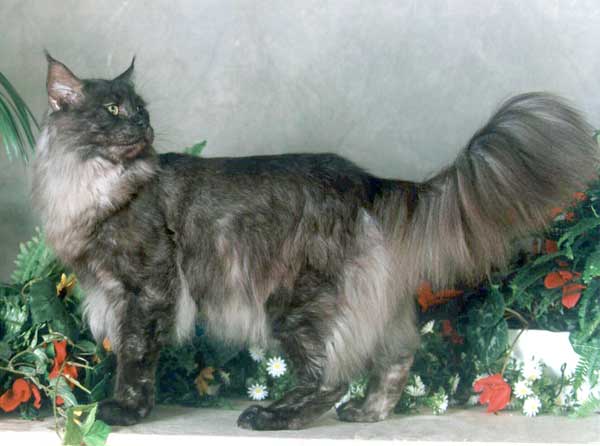 3 ans
3 years
CCG CHALLENGE 2001

5ème MEILLEUR CHAT toutes races
3ème MEILLEUR MAINE COON
BEST reproducteur

5TH BEST CAT all breed
3TH BEST MAINE COON
BEST breeder
4 ans,
ce seront les dernières photos de ce chat exceptionnel. Smokey souffrait depuis le printemps 2001 d'une cholangiohépathite lymphoplasmacitaire et était condamné à plus ou moins long terme. Je l'ai laissé rejoindre le "coon paradise" le 22 novembre 2002 ...
4 years,
These would be the last pics from this outstanding cat. Smokey suffered from a lymphoplasmacitary cholangiohepatitis since spring 2001 and was also condamned in a more or less time. I let him join the coon paradise on november 22, 2002 ...

Merci mon Smokey pour ces merveilleux moments partagés, tu continues d'exister dans le fond de nos coeurs et à travers les fabuleux chatons que tu a donné et qui te feront toujours honneur.
Thanks my dear Smokey for these marvellous shared moments, you continuous to exist in the bottom of our hearts and through the fabulous kittens you gave which will always honor you.
Résultats jugements traditionnels
Traditionnal Shows Results
| | | |
| --- | --- | --- |
| 24.06.2001 | Verbania (I) | BIV |
| 29.04.2001 | Morvillars (F) | BIV, BIS |
| 18.03.2001 | Aubonne (CH) | BIV, nom |
| 10.02.2001 | Annecy (F) | BIV, BIS, BOB |
| 09.12.2000 | Munich (D) | nom |
| 19.11.2000 | Giubiasco (CH) | BIV, nom |
| 18.11.2000 | Giubiasco (CH) | BIV, BIS, BOB |
| 05.11.2000 | Villeneuve (CH) | BIV, BIS |
| 04.11.2000 | Villeneuve (CH) | BIV |
| 12.11.2000 | Rosenau (F) | BIV |
| 28.10.2000 | Ury (F) | BIV, BIS |
| 16.09.2000 | Annecy (F) | BIV |
| 25.06.2000 | Verbania (I) | BIV |
| 18.06.2000 | Dijon (F) | BIV, nom |
| 23.04.2000 | Yverdon (CH) | BIV, nom |
| 22.04.2000 | Yverdon (CH) | BIV |